KÜTAHYA, GEDİZ, AKÇAALAN VILLAGE (Eski Gediz District)
KÜTAHYA - TÜRKİYE
ART and CULTURE
Our town has been always in agende with calligraphers, painters, writers and photographers brought up there.
Well know calligrapher Mustafa KÖYLÜ was charged with Laleli Mosque in Kütahya and some other mosque in Altıntaş and Domaniç. He was also charged with the templates of Gediz Ulu Mosque. He did some works of calligraphs and paintings.
In the art of wooden, negraving and inner deceration Hüseyin Ali and Mehmet AKALAN are very successfull.
Litersture Teacher Deniz BİRCAN wrote is thesis about Akçaalan Town and it is an important source of the history of the town.
Retired Teacher Hüseyin TANRIKULU wrote a book about the tombs and tekkes in Akçaalan town.
Birol AKDEMİR is a photographer brought up in Akçaalan. He takes photos of historical and natural beauties and takes parts in individual and mixed exhibitions.
LOCAL MEDİA TELLAL NEWS
121 YEARS TRADITION in GEDİZ
Seeing soldiers of in Akçaalan has displayin colorful scenes for 121 years. According to this tradition in Akçaalan, when the young men are called from the army, they have good times with the acconpaniment of drums and recorders.
It was began for the first time by soldiers born in 1872 and it is continuing now without loosing its origin.
Last time, 13 young men who would join army in August wore folklore clothes special for soldiers and did folk dancişng. In addition, they displayed a theater show prapered by them. Candidates of soldiers walk around the houses and sign ballds. Households give money to them. The young share some of the Money as pocket mony for military service. The rest of the Money is delivered to Mayot for the urgent needs of the town.
The Mayor Mehmet Ali KORKMAZ say that they are determined to keep this tradition alive.
26.08.2003
Tellal News
TALLENTED BALLAD WRITERS FOR SOLDIERS
İBRAMCON ALİ ÇAVUŞ
FANTANIN ALİ ERUÇAR
SÜLEYMAN GÜLER
SÜLEYMAN ATAR
MUSTAFA CANTÜRK
HALİL KUMRAL
ŞERİF BEKTAŞ
ŞABAN MALTAŞ
HALİL İBRAHİM PINARBAŞI
MEHMET GÜLER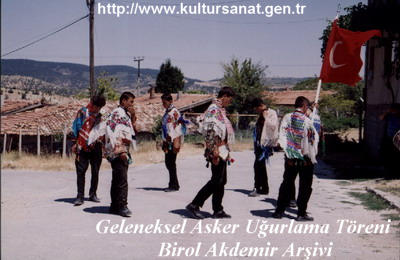 KÜTAHYA CULTURE and ART ASSOCIATION ARRANGED A TOUR TO EX-GEDİZ and AKÇAALAN
Kütahya Culture and Art Association arranged a tour to Ex-Gediz and Akçaalan for the activities of 'Knowing our Enviroment' with the hospitality of the Mayor of Ex-Gediz Ekrem TAŞKESDİK and The Mayor of Akçaalan M.Ali KORKMAZ many artists were partipated in the tour, Those are; Yıldırım - Gönül Türkel , Necmettin Çetintaş na his wife, Painter Hüseyin Yüce and his wife, Photographer Birol Akdemir and his wife, Collectioner Dt. Murat Özbey and his wife, Painters Nursel Cantürk, Kazım Somun, Zafer Gence, Seramic Artist Yusuf Çeliker, Kırkpare Artist Yaşar Ataseven and Writer F. Ferihan Beşli.
The members of the club wnet about the historical buildings and famous grape gardens which are about to vanish.
It was agrees that the work of paintings and photos would be exhibited at a friend time with the desire the Mayor of Ex-Gediz.
08.10.2003
Tellal News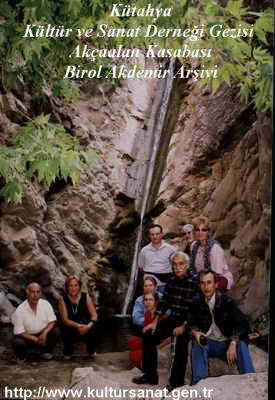 As an activity of Kütahya Culture and Art Association and with the helps of the Mayor Of Ex-Gediz; Ekrem TAŞKESDİK, on 5 th. August, 2004 there will be a mixed exhibition in Ex-Gediz Wedding Hall.
Tailers, Painters, Calligraphers, Gildingers and Photographers from Kütahya will attend this exhibition. Art this time, a multivision display about the life of 190 s, earthquake in 1970 and 2000 s Ex-Gediz will be shovn by Aydın SARAOĞLU, F. Ferihan BEŞLİ and Birol AKDEMİR.
Gedizliler Web Site 2004
LOCAL CLOTHES WHICH ARE ABOUT TO BE FORGOTTEN
In Akçaalan town local clothes look like the Turkmen clothes. The Old Stil wear old clothes but the young wear them only at weddings not to maket hem forgotten.