KÜTAHYA, GEDİZ, AKÇAALAN VILLAGE (Eski Gediz District)
KÜTAHYA - TÜRKİYE
TOURISM OF RELIGION
The culture of tomb is very important for Gediz. At several times tehy are visited, people red Quran, sacrifice and now.
SOME SIGNIFICANT TOMBS
THE TOMB OF KARADONLU CİHAN BABA
It is next to the town graveyard at east. It was demaged by 1970 earthquake and restored by Hacı Mustafa TANRIKULU. Then, some social institutions were built by Akçaalan Yardımlaşma ve Dayanışma Assosciation. Teh juniper near the tomb is the symbol of tomb and it is said that; when it was plant the settlement began. There is no one who saw it gren so the settlement of the town is vety old. Dry state of the tree is in protection now. The fountain around the dried tree is said to be healing for the illnesses resulting form fear.
Karadonlu Cihan Baba, was a postnisin at the dervish content of Hacı Bektaşi Veli. He helped the spreading of İslam around Gediz. He became martry in a war and buried there.
It was said that his tomb is in different palces.
He helped the Turkish soldiers in the war of Korea and told them his home towm. After that these soldiers came Gediz. To thank him but shocked when they saw his tomb.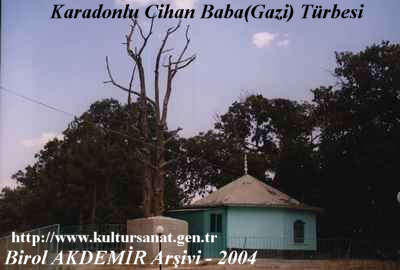 Archives by Birol AKDEMİR
THE TOMB OF DOYMAK DEDE
It is in the picnic ares of people in Gediz.
THE TOMB OF YAREN DEDE
I is at the entrance of the town. The tomb and its surrounding are improved and it is covered with the trees named Azat.
These tress are 400 years old and this was proved by research. These tress are used as swing at festivals.
THE TOMB OF PİR MAHMUT
It is at the North of the town and on the way of Deresevindik village.
THE TOMB OF MEİS DEDE
It is at the North of town and 1 km. after the tomb of Pir Mahmut.
THE TOMB OF ALİ BABA
It is at the opposite hill of Kayacık town.
THE TOMB OF DOĞRU GAZİ
The area of the tomb is surroundeb by paks. In summer people come here both to visit the tomb and to picnic. From the hill of Doğru Gazi all of the villages and towns are seen and watchşng the sunset here is wonderful.
Below is a tale told about the tomb;
At the foot of that hill, at time of war with greece, greek soldiers were defeated, whilethey were escaping they looked the back and saw only one soldiers. There were 11 Greek. Theyy turned back and attacted Doğru Gazi. The attack countied around an hour. Doğru Gazi killed 7 of them, but he was also injured. He didn't have strength and began tı climb the hill he is lying now.
At the time the enemy caught him, at that moment his saddle fell and he also down. He couldn't tie it and he took his bloody sword and prayed for his saddle.
BULANDI GÖZLERİM, DALDI UMMANA
YA EĞER! TAŞ KESİL KALMA DÜŞMANA
YOLLANDIM GİDERİM, ULU RAHMAN'A..
YA EYER! TAŞ KESİL KALMA DÜŞMANA !
ALLAHIN HERŞEYE KADİRSİN KADİR
EYERİ DÜŞMANIN GÖZÜNDEN YETİR !
ÖZÜNDEN BİRİNCİ DİLEĞİM BUDUR
YA EYER TAŞ KESİL KALMA DÜŞMANA !
To prayer Doğru Gazi, when it finished, his seddle was dumbfounded, that seddle is stil existing there.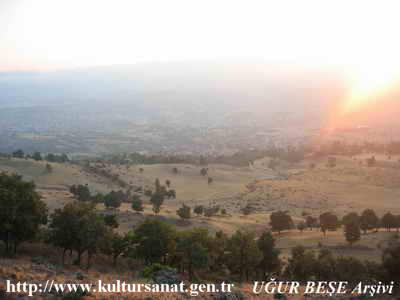 Archives by Uğur BEŞE - Tomb of Doğru Gazi Hill.
TOMB WHICH AREN'T CONSTRUCTED.
There are some other tombs in Akçaalan which aren't constructed by some reasons. They are about 39 these tombs are; Ballı Baba, Tekke Dede, Ildır Işık Araplar and Hacim Dede.