KÜTAHYA CITY, GEDİZ COUNTY, AKÇAALAN VILLAGE
LOCAL MEDİA ESTABLISMENT.
121 YEARS TRADITION in GEDİZ
Seeing soldiers of in Akçaalan has displayin colorful scenes for 121 years. According to this tradition in Akçaalan, when the young men are called from the army, they have good times with the acconpaniment of drums and recorders.
It was began for the first time by soldiers born in 1872 and it is continuing now without loosing its origin.
Last time, 13 young men who would join army in August wore folklore clothes special for soldiers and did folk dancişng. In addition, they displayed a theater show prapered by them. Candidates of soldiers walk around the houses and sign ballds. Households give money to them. The young share some of the Money as pocket mony for military service. The rest of the Money is delivered to Mayot for the urgent needs of the town.
The Mayor Mehmet Ali KORKMAZ say that they are determined to keep this tradition alive.
TALLENTED BALLAD WRITERS FOR SOLDIERS
İBRAMCON ALİ ÇAVUŞ
FANTANIN ALİ ERUÇAR
SÜLEYMAN GÜLER
SÜLEYMAN ATAR
MUSTAFA CANTÜRK
HALİL KUMRAL
ŞERİF BEKTAŞ
ŞABAN MALTAŞ
HALİL İBRAHİM PINARBAŞI
MEHMET GÜLER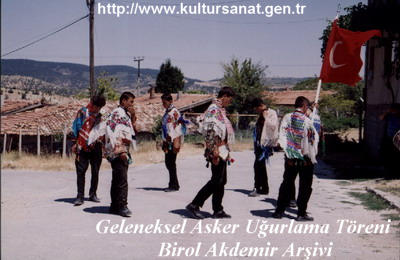 KÜTAHYA CULTURE and ART ASSOCIATION ARRANGED A TOUR TO EX-GEDİZ and AKÇAALAN
Kütahya Culture and Art Association arranged a tour to Ex-Gediz and Akçaalan for the activities of 'Knowing our Enviroment' with the hospitality of the Mayor of Ex-Gediz Ekrem TAŞKESDİK and The Mayor of Akçaalan M.Ali KORKMAZ many artists were partipated in the tour, Those are; Yıldırım - Gönül Türkel , Necmettin Çetintaş na his wife, Painter Hüseyin Yüce and his wife, Photographer Birol Akdemir and his wife, Collectioner Dt. Murat Özbey and his wife, Painters Nursel Cantürk, Kazım Somun, Zafer Gence, Seramic Artist Yusuf Çeliker, Kırkpare Artist Yaşar Ataseven and Writer F. Ferihan Beşli.
The members of the club wnet about the historical buildings and famous grape gardens which are about to vanish.
It was agrees that the work of paintings and photos would be exhibited at a friend time with the desire the Mayor of Ex-Gediz.
Tellal News / 08.10.2003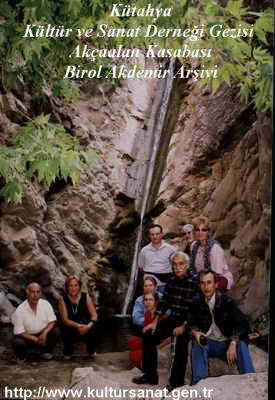 EXHIBITIONS in EX-GEDİZ
As an activity of Kütahya Culture and Art Association and with the helps of the Mayor Of Ex-Gediz; Ekrem TAŞKESDİK, on 5 th. August, 2004 there will be a mixed exhibition in Ex-Gediz Wedding Hall.
Tailers, Painters, Calligraphers, Gildingers and Photographers from Kütahya will attend this exhibition. Art this time, a multivision display about the life of 190 s, earthquake in 1970 and 2000 s Ex-Gediz will be shovn by Aydın SARAOĞLU, F. Ferihan BEŞLİ and Birol AKDEMİR.
Gedizliler Web Site / 2004
NATIONAL MEDIA ESTABLISMENT
Kütahya Gediz thermal Resorts are source of hop efor the people who have eye strain. Many people who have eye-strain are going there in rush the water which comes from 950 metre depth is said to heal many eye problems.
The water called 'Eye Water' by people of Gedix is dripped to the eye and face is washed with this water.
Many people bring barrels and take them away their hometowns. Süleyman Özdemir who came from Manisa to Gediz to cure his eyes with the healing water said he heard the healing effct of this water from his friend. His two eyes are in a bad contidition and he dripped water to his eyes and after a while he felt relieved.
People in Geidz went the healing water to be examined by scientists and used bey puclic.
ADİL AKA-KÜTAHYA (İHA)
http://www.kenthaber.com/sayfalar/haberDetay.asp?ID=2932
ASSOCATION OF AKÇAALAN'LILAR WERE MEAL DURİNG RAMADAN
The Members of Akçaalan Yardımlaşma ve Dayanışma Association were met at a meal during Ramadan which was hold by İsmail Cantürk in Hatipoğlu Relaxation Istitution. At the meal, Vice President of Assocation Birol AKDEMİR gave the message of unity and coorperation. He wished the continuity of that kinde of meetings for the citizens to know each other more.
The Mayor of Akçaalan M.Ali ACAR shared the same wished and stated that they would meet again next year at such meetings.
Kütahya Gündem News / Kasım 2004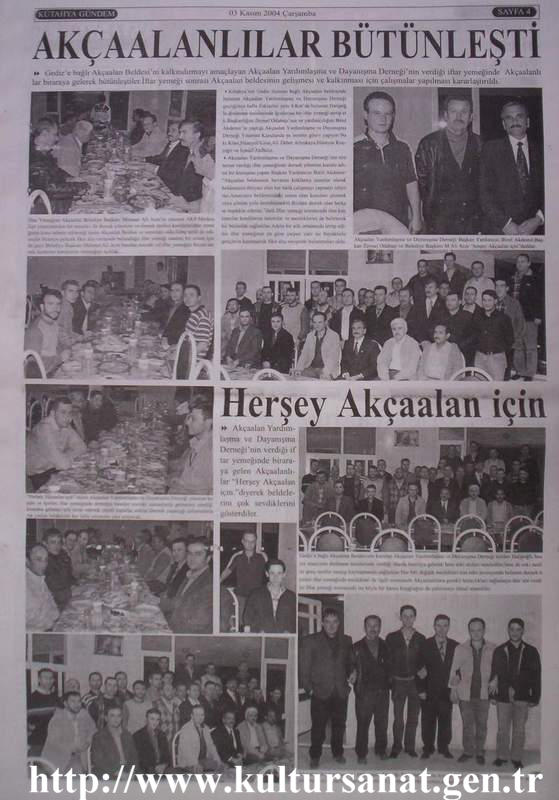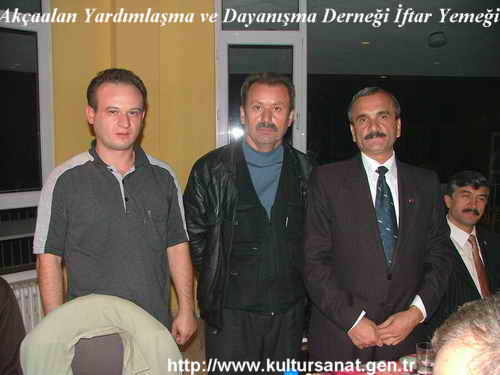 CITIZENS OF AKÇAALAN ARE TOGETHER EVERYWHERE
150 citizens whoo were meet in Kütahya were in Germany Bergkamen Balu.
People from Gediz – Akçaalan try to keep alive that kind of unity. While citizens of Akçaalan were in Kütahya, citizens of Akçalan in Germany meet in Kütahya – Gediz Akçaalanlılar Kültür ve Sanat Association.
Almost 150 people joined this meeting, In that meeting Mustafa TOKMAN was chosen as the president again. İsmail KÖSER was included as the consultant of froign relation and pres. At the feast, a tile writen ' Akçalanlılar was in sale by puclic auction and they collected 1077 Euro.'
Mustafa TOKMAN made a speesh to tahnk. Here is his speech.
'Venerable citizens of Akçaalan, as you know our association was set up at 2 nd February 2002 with your contributions. Till now, we have been in a race of service to our citizens in our country and 5 years agı we sent an Excavator. We helped our citizens who had health problems in Turkey by sending Money. In 2003 – 2004 we supportedthem to widen the graveyard and renew the walls of the garden of the school. Our aim is to obtain medical tools and materials for thhe service of our people. We wnted to get wheeled chairs, tools to provide balance for people who need. Be sides, We want to leave a monument as a symbol. Now, we have41 registered members. It is about % 25 of people from Akçaalan. Now I am callinf all of the people form Akçaalan to be a member of our association. 10 Euro for each month is not much to help the people in need. I hope every people who say I am from Akçaalan will register'
"GERMANY AKÇAALANLILAR YARDIMLAŞMA VE DAYANIŞMA ASSOCATION"
(Hilfs-U. -Solidaritats e.V.der Akçaalanlılar migrantinnen und Migranten in Deustschland)
Tauben str. 14, 59192 Bergkamen-Rünthe
President : Mustafa TOKMAN
House and Assocation : Tel:0049-(0) 2389-534 185, Cep: 0173-637 44 74."
Gedizliler İnternet Sitesi / Yeni Kütahya Gazetesi / 2004
CITIZENS FROM AKÇAALAN REMOVING THEİR HOMESICKENESS IN GREMANY WITH THEIR ASSOCATION.
GEDİZ- The one who want to Germany us workers remove their homesickness with their assocation.
Mustafa TOKMAN who is the President of this assocation in Bergkamen Balu said taht they were set up a short time ago but their members havee been increaving day by day.
He holde their contribution to Akçaalan. He said they builded graved and school there, they helped ill people who are poor.
Mr. TOKMAN addet that they would send medical tools. Wheeled chairs ande equipments for balance.
Tellal News / 01.12.2004