KÜTAHYA CITY, GEDİZ COUNTY, AKÇAALAN VILLAGE
KUTAHYA MAP, WAY AND KILOMETER INFORMATION.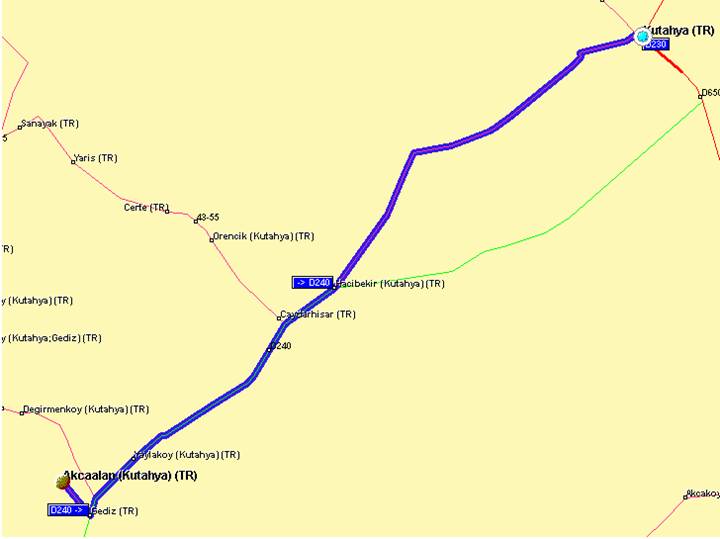 Kilometer Chart Between our Village and The Other Cities
Gediz'e 15 Km.
Kütahya'ya 75 Km.
İstanbul'a 425 Km.
Manisa'ya 230 Km.
İzmir'e 250 Km.
Ankara'ya 387 Km.
Antalya'ya 340 Km.
Kilometer Chart Between our Village and The Other Countries.
Almanya (Bergkamen) 2999 Km.
Hollanda (Amsterdam) 3082 Km.
Finlandiya(Helsinki) 3360 Km.
MAP and KILOMETRE INFORMATION
Our town is about 400 km. distance to the central cities.
At least during a journey you can see these;
Historical houses remaining from the eartquake, waterfalls, natural and artifical lakes, natural beauties of high plateus, famous cherry garden, grape vineyards, historical house of Ex-Gediz, Private Municipality Museum, National Park of Murat Mountain, trout farms Ilıca, Asmalı Çınar Picnic Places, Monuments of Maritries,
Aizoani in Çavdarhisar, dam ponda, the interritance of Rome,
Famous Pond of Kayaköy,
Swimming Pools of Esire,
Healing Thermal Resorts of Hamamköy,
Emet Cevizdere Martydom and Tiberepolis,
Ulu Mosque Big Seyfullah Mosque which is formed wooden of Mimar Sinan,
Hisarbey Mosque in Simav, Ankyra Antic City, Gölcük Lake and
Eynal Thermal Resorts.
Source :
| | |
| --- | --- |
| | Antik Kent Bilgileri Kütahya Culture & Tourism Manager - Tourism Map |
| | http://www.gedizliler.com/ İnternet Site |
| | Europe- Route Planner Europe E-Map |
| | Akçaalan Web Sitesi |